Basics: This trip is an easy beginners backpacking trip on Santa Cruz Island at Channel Islands NP. The trickiest part is getting a campsite reservation, arranging transportation to and from the island, and packing in your water. This hike could be anywhere from 7 to 20+ miles round trip, depending on where you get off the boat. We hiked 3.5 miles to the backcountry campsite, and took a longer 5 mile route back out.
Trail Description: I am not much of a winter backpacker, but the weather has been so sunny and calm that I couldn't help but plan a trip out to the Channel Islands.
I booked the last campsite at the Del Norte campground on Santa Cruz Island. There are several ways to access the islands- the NPS website has plenty of info so I won't go in to detail. We booked tickets on the Island Packers boat leaving Ventura Harbor.
On the morning of our trip, we loaded up our gear, I ate a bagel and coffee (bad idea in hindsight), and we headed for Ventura. The boat departed shortly after 9:00am. It was windy and the ocean was choppy. After about 15 minutes, I started feeling queasy. I had taken Dramamine and was wearing those wrist band things, but to no avail. I should note, I was not the only one feeling seasick on that boat.
The trip was long – almost 2 hours. We saw dolphins, I stared at the horizon, and Rob waited with his camera, ready to take a photo of me "getting sick" off the side of the boat.
Finally we made it to Scorpion Anchorage. Unfortunately this was not our stop. From Scorpion it would be a 10+ mile hike to the Del Norte campground. After the majority of travelers got off the boat, we continued onwards around the island to Prisoners Harbor.
Finally we made it to Prisoner's. I lost my breakfast somewhere along the way. And no, Rob did not get a photo because he was not paying attention.
After leaving the boat, everyone sat and ate lunch while I waited for my world to stop spinning. Finally, we began hiking. It was sunny but a little windy. We headed up the Navy Road (the dirt road leaving the harbor). After about 1.5 miles and 600-ft of elevation gain, the single track Del Norte trail split off to our left. This trail went up and down and up and down- through two separate canyons. It almost goes without saying, but we had awesome views of the ocean and the CA coastline from almost everywhere. After almost 2 miles, we came to a junction with Del Norte Road. We turned right and it was a short 0.2 miles up to the campground.
The Del Norte campground has 4 primitive sites with picnic tables and bear lockers (for the island foxes). There is also one very smelly pit toilet. Bring toilet paper.
The campground is nowhere near the beach (this island is huge) but it has sweeping views to the ocean and beyond towards Santa Barbara and Ventura.
We set up camp, made dinner, looked at the views, got really cold and went to bed. Actually, Rob and Andy stayed up with some cider and rum. The wind died down and they claimed it was almost warm. A kit fox came up and sat right next to the picnic table, perhaps looking for food. Nobody fed it (because we are good stewards of the environment) and it disappeared into the night.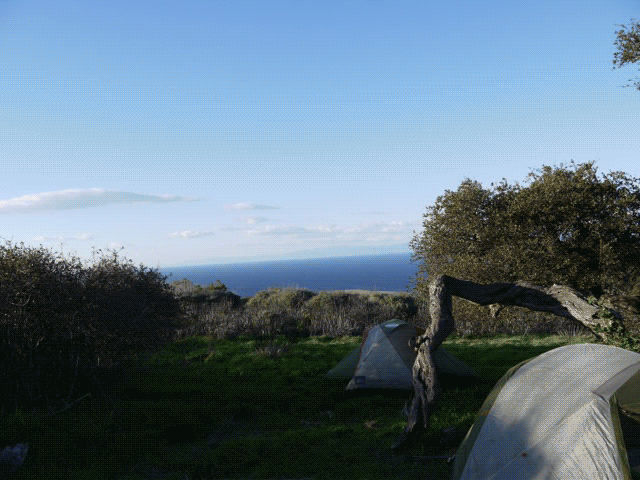 In the morning, we made our typical backpacking breakfast – a huge pot of oatmeal with tons of berries and nuts and stuff. We let our tents dry (wet from condensation), packed up and headed out! We saw an island scrub jay and more kit foxes. I always get excited to see animals that are only found on the islands (so rare and special!!), even though to my untrained eyes they aren't really different from their mainland counterparts.
We took the longer route back to Prisoner's Harbor. We went up the Del Norte Road for about 1 mile. We turned right at the junction with the Navy Road and followed it for 4 miles back to the harbor. This route back provided views to the southern side of the island and the ocean beyond.
We saw whales, dolphins and birds (even a bald eagle!!) while we waited for the boat. Thankfully, the return trip was much less choppy and I did not get sick.
More Info:
National Park Service – Channel Islands
Island Packers – for transportation to and from the islands